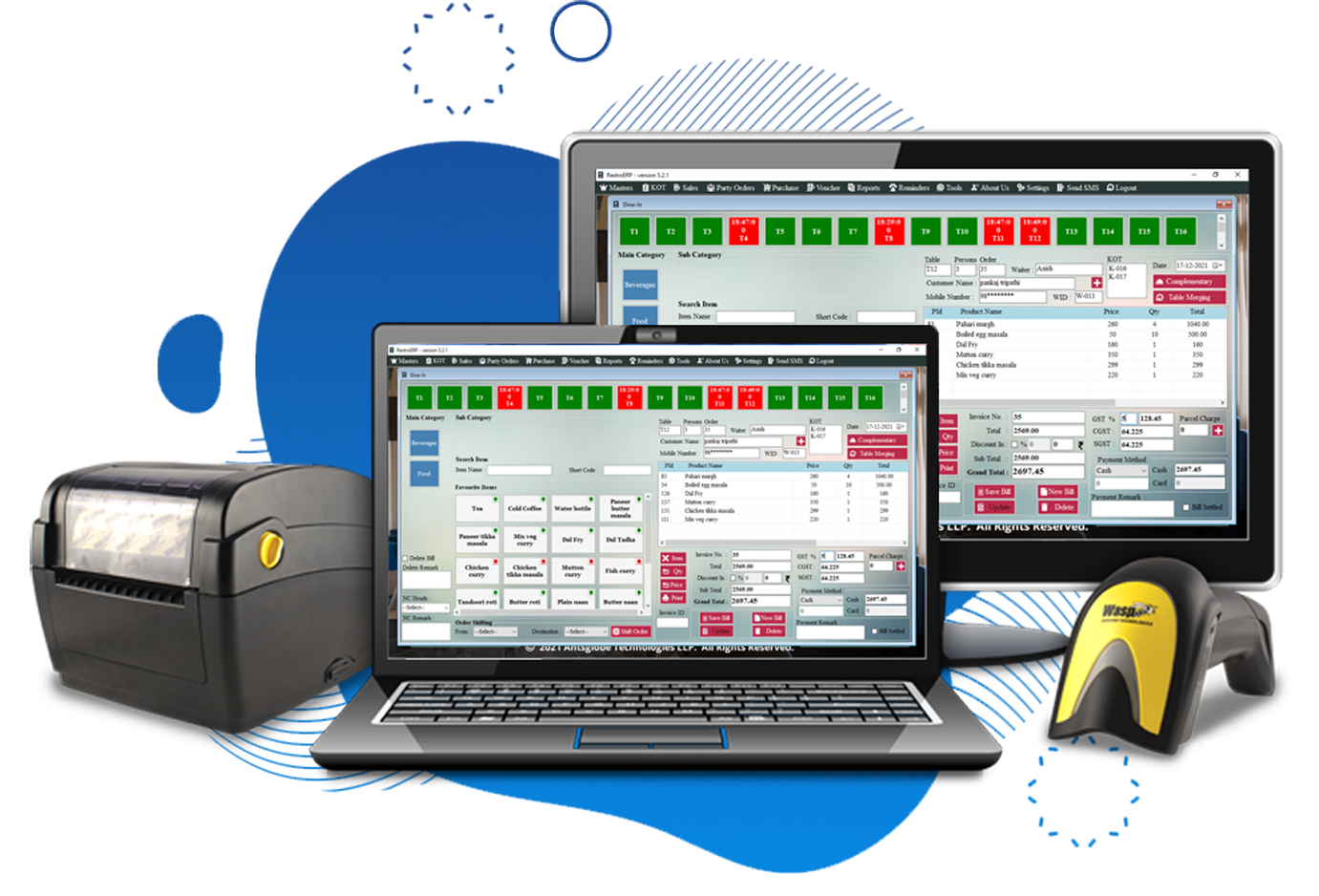 RestroERP Packages
Enterprise Package
"To help you start your POS Immediately we have made pricing simple, affordable and Transparent."
Three Training Sessions Free
18% GST Applicable on pricing
Free Online Support For 1 Year
Extra Add-ons Available*
License Renewal Cost - Rs. 15,500/-
Know Where RestroERP Enterprise Package Suits Best
We beieve in bringing win-win situation for all our clients and our expert team not only guides you to select the best package but also will help you for package upgradation.
RestroERP Enterprise Package Features
Get everything from basic package plus added advantages in enterprise package.
Table Management
It is a Simplified solution with Quick and Accurate billing process that lets you process different table orders in a short time which increases your operational efficiency. The records are stored in secured database and can be accessed by authorized users only.
KOT Management
This interesting feature of Kitchen Order Token will serve you in managing the restaurant with ease in a better way. You can print one or more tokens as per the requirement in the kitchen. RestroERP offers an efficient KOT management serving your goal of customer satisfaction.
Inventory Management
Manage all your stock and inventory with ease by Stock Re-order points, Vendor Management, Payment Reminders and Payment Vouchers, helps in checking stocks availability. The complete business details are securely stored and managed accurately.
Complementary KOT
RestroERP keeps a track of complementary KOT records. The complementary expense details inserted in the records help in evaluating the overall investments, sales, profits and loss incurred. This facilitates effective budget planning.
Non-chargeable Food
RestroERP offers flexibility to keep track of non-chargeable food which includes foods consumed by staff, waiter or other special guests arrive in your restaurant. All calculations of inventory, billing and KOT will be settled as per the restaurant's need.
Split Bills
With RestroERP, you can easily split bills of your customers by percentage-wise, portion-wise or by custom splitting the bill and delight your customers by instant split bill amount and help them from the struggle of splitting bills in equal amount values.
Daily Summary Report
Get your daily summary report of restaurant sales and operations in a single click in RestroERP. Right from sales report to KOTs records and even details of deleted bills, everything you will get in the enterprise package of RestroERP.
Dynamic Bill Format
RestroERP produces a uniquely stylized billing format which can be easily customized as per the requirement. The templates can be redesigned by the user as per their convenience and availability of printer.
Party Orders
Easily manage party orders for birthdays, anniversaries and so on. You can create dynamic packages for different parties as when required. You can also easily track the inventory, customer details, and ledger details of party orders seperately.
Automated Reminders
RestroERP service comes with automated reminder alerts for reviewing balanced payments, stock management, sharing messages on special occasions, customer events, anniversaries and others. It makes the system reliable and secured.
Purchase Details
RestroERP maintains record about all the purchase history. It monitors the purchasing details of inventory, re-ordered, stock ordered, automatic GST calculation, quantity purchased and other details.
Multi-payment Mode
Delight your customers with the facility to pay the bill amount in different payment modes such as cash, card, UPI and so on. You can also view the complete detailed reports of payment recieved and easily export them.