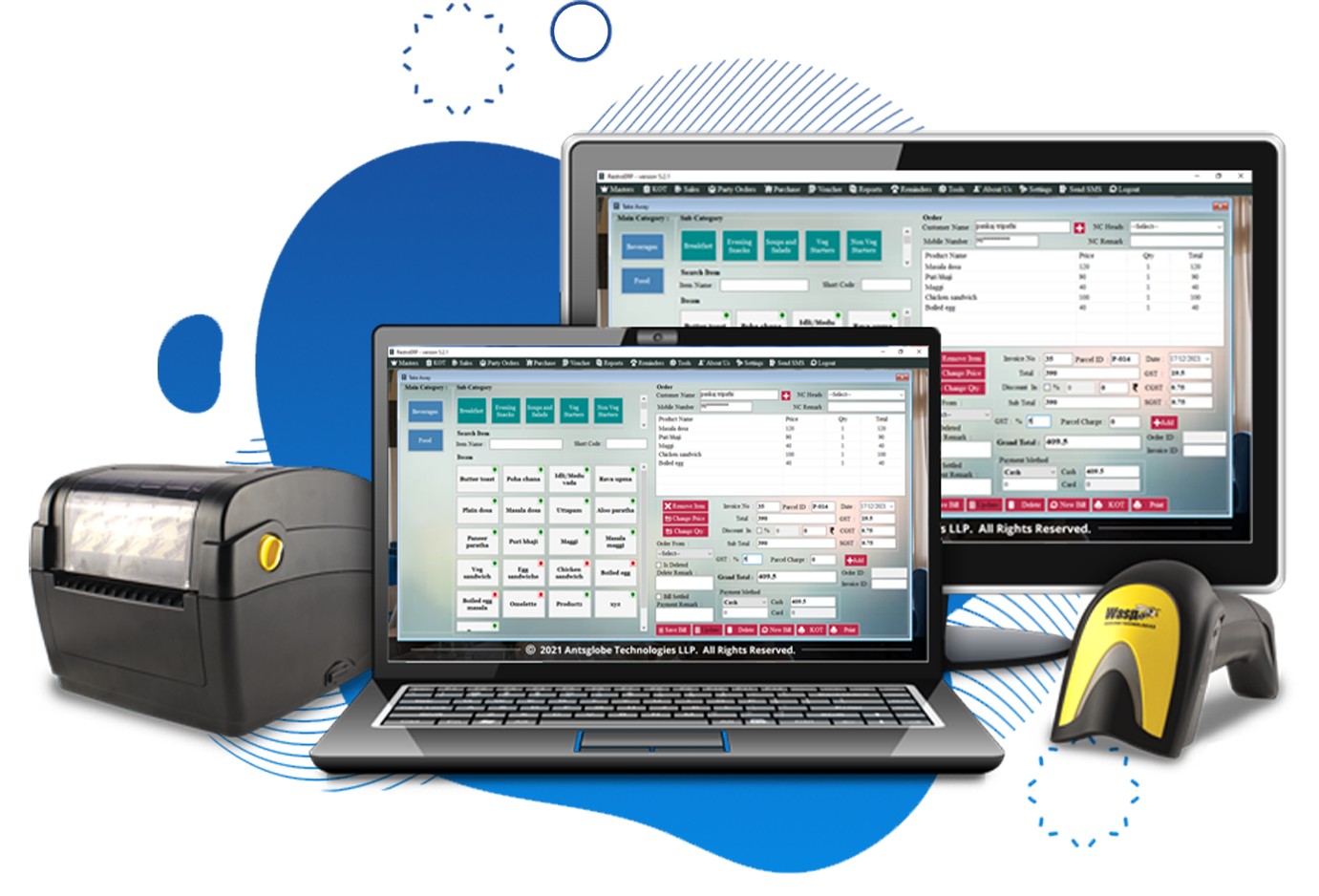 RestroERP Packages
Basic Package
"Start a hassle-free journey of managing your take-away restaurant with the basic package of RestroERP."
Three Training Sessions Free
18% GST Applicable on pricing
Free Online Support For 1 Year
Extra Add-ons Available*
License Renewal Cost - Rs. 7,500/-
Know Where RestroERP Basic Package Suits Best
We beieve in bringing win-win situation for all our clients and our expert team not only guides you to select the best package but also will help you for package upgradation.
RestroERP Basic Package Features
Explore the features of RestroERP basic package.
Take Away Billing
RestroERP is an easy solution with Quick and Accurate billing process. In this process, the customer can order & collect parcels from the counter. Order billings can be done in a short time which increases your operational efficiency. The records are stored in a secure database.
Multiple Roles
RestroERP software can be accessed by multiple users but with limited privileges according to roles and authority which is provided by the admin thus maintaining the security of the system. The data can be easily accessed only by the privileged, authorized user hence is highly secured.
Food delivery App Orders
RestroERP Software solution allows you to accept orders from various online ordering channels directly at the POS. It easily manages customer data from online ordering channels and save their details such as favourite orders, purchase history and address.
Auto backup and Recovery
Your valuable data can be secured by advanced data management tools of RestroERP saving it from unauthorized access and intrusions. The data gets automatically saved at regular intervals, without setting any reminders.
KOT Management
RestroERP offers an efficient KOT management serving your goal of customer satisfaction in a better way. You can print one or more tokens as per the requirement in the kitchen and increase productivity of kitchen operations.
Hot Keys Billing
RestroERP support Hot Keys which are the Shortcut Keys present on a computer keyboard that, when pressed at one time, performs certain task more quickly than by navigation using a mouse or other input device.
Expenses Record
RestroERP keeps record about all the expenditures in a simplified format. It helps in analysis of all the expenses, estimating profits and loss incurred to make more informed decisions. From paying advance salaries to additional expenses occuring in day to day life, RestroERP manages it all efficiently.
Customer History
RestroERP software keeps track of customer database maintaining all the details about purchases, orders, personal details, number of visits, discounts applicable, coupons codes generated, facilities provided and other offers. It helps in maintaining logs easily without redundancy or repetition.
Automated Reminders
RestroERP software keeps track of customer database maintaining all the details. Also you can get reminders for customer birthdays and anniversaries so that you can send exclusive discounts to them through sms or whats. It helps strengthening warm relationships with the customers.